Turmeric Organic Madagascar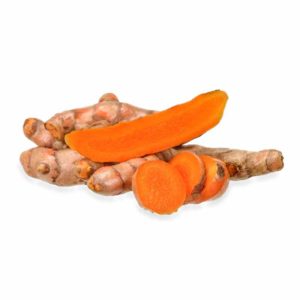 Curcuma longa L
Agro-alimentary Organic product certified by ECOCERT SAS F-32 600
NOP certified by ECOCERT SAS F-32 600
1) Product description
The Turmeric Organic from Madagascar (Curcuma longa) is an herbaceous perennial plant that can reach up to 50 cm of height. It is harvested for its roots, appreciated for its pleasant flavor and beautiful and deep orange-yellow color.
PHAEL FLOR EXPORT company engages in cultivation of Curcuma on its own concessions. This plantation covers 10 acres and is located in Moramanga, a small town 100km east of the capital city. Even more eastern, other plantations are also exploited in partnership with local growers but always under the Company's supervision in order to satisfy Organics farming requirements. Plantings operations are carried out in November before the rainy season. The roots are dug out in July of the same year and in some case of the following one if they haven't let the expected dimension yet. The roots are subsequently transported to the plant in Antananarivo to be treated.
They are processed, carefully cleaned, cut in chips form and dried to preserve them for transport and storage.
All those operations are conducted mechanically with appropriate machines.
The yield in terms of dried finished product/raw materials is 10%.
2) Products available for sale
The product available for export is presented in cylindrical form or in perfectly dried powder. It is packaged 20kg by 20kg in polypropylene bags. The quality of the product is strictly controlled and before packaging, any form of mold is systematically removed.
Both forms of the product are sold under the certified BIO / NOP / JAS labels.
We also consider order of conventional quality products, depending on our customers 'needs.
Annual production : 25 tons.
3) Quality of Turmeric Organic from Madagascar
Products traceability is fully carried out by the company, all the products are organic according to the European (BIO), American (NOP) regulations ESR (fair trade).
4) Product available for sale
Curcuma longa is usually sold to consumer in powder form. It is extensively used as a condiment in Asian cuisine and adds a rich golden color and pleasant flavor to food.
According to scientists, turmeric is also valued for its medicinal properties.